Trick or treat, give me something nice to eat!
Halloween Fun
Do you feel the momentum building? Mid-term break is coming up quickly with Halloween just a few days behind.
So, naturally, I'm focusing on all things spooky (in a friendly way of course!). I'm especially excited to share news about a fantastic charity event that helps you put your spooktacular creations to good use.
Let the frightful fun begin!
Kids in the Kitchen News
Congratulations to Matthew O'Leary who was September's GEM cook-along prize-winner.
In that class, we made delicious Moroccan meatballs with flatbreads. It's the perfect warming family dinner as the evenings get longer and chillier. You can find the recipe here or watch back this class (and dozens of others) when you join in the fun at our Family Cooking Club.
Trick or Treat for Sick Children
It's hard to believe this extremely worthwhile event (formerly known as Trick or Treat for Temple Street) has been on the go for 23 years now!
This year, you're being encouraged to sign up and host a "hideously fun Halloween party". When you do, you'll receive a special party pack with everything you need to make your event a spooky success.
In your pack, you'll find:
● How-to tips
● Collection box
● Posters
● Stickers
● And more
Hurry over to the Children's Health Ireland website to register and find out more.
You'll find lots of tips, inspiration and downloads (including decorations and games) to get you motivated, even before your pack arrives.
There's also a donation option if planning a party isn't possible for you.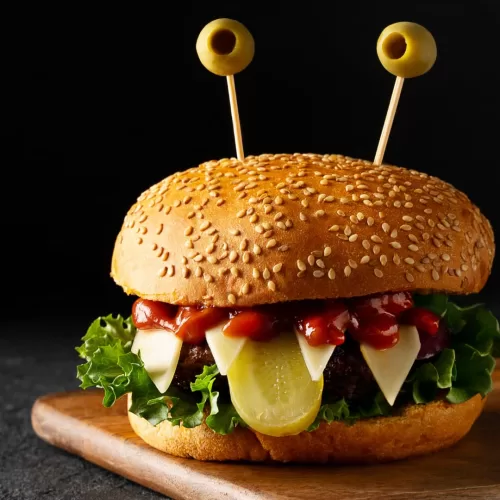 Monster Burgers
A monstrous Recipe for Halloween
Equipment
1 Large mixing bowl

1 Scissors

1 wooden spoon

measuring spoons

1 Baking tray

cocktail sticks
Ingredients
500

g

Beef Mince 10% fat

A pinch of salt and pepper

1

tsp

paprika

1

tsp

onion powder

1

tsp

garlic powder
To Create Your Monsters:
4

brioche buns

Lettuce leaves

Cheese slices with one edge cut jagged

for teeth

Olives stuffed with pimentos

for eyes

Sliced gherkins or cucumber

for monster tongues

Cocktail sticks to assemble

Tomato Ketchup
Instructions
In a medium mixing bowl combine the mince and seasoning.

Get your hands in to mix thoroughly then mound into 4 patties. The kids love this bit!

Oven bake the burgers in a preheated oven at 180°c fan, gas mark 4 for 20 minutes

When cooked we will assemble the burgers into monsters by placing each burger on a bun then adding the 'teeth' (cheese slice) and the 'tongue' (gherkin), allowing them to fall out over the edge. Put the bun lid on top.

Take two mini cocktail sticks and push an olive onto each to make your monster eyes, then stick them into the top of the burger buns.

Finish each monster burger with a dollop Blood Ketchup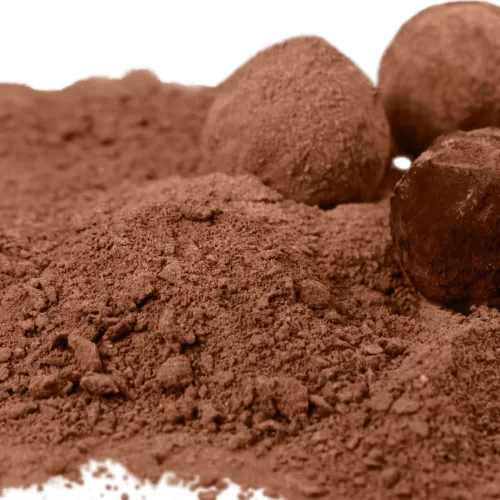 Truffle Roulette
And to add to your "monster bash", here's my popular Truffle Roulette recipe – will you get a trick or will you get a treat? Just remember you'll have to start this recipe the day before you plan to use them.
Ingredients
For the Truffles
530

g

dark or milk chocolate

360

ml

fresh cream

100

g

cocoa powder
For the tricks
5

pickled onions

2

sliced gherkins

(chopped into 5 pieces each)
Instructions
Break up the chocolate and add it to a heatproof bowl with the cream.

With adult supervision, gently melt both together over a pan of simmering water. Make sure the bowl doesn't touch the water.

Stir until smooth, then take off the heat.

Pour the chocolate and cream mixture into a lined 2lb loaf tin. Place in the fridge overnight to set.

Once set, scoop out a teaspoonful of the mixture at a time.

Poke a "trick" (pickled onion or gherkin piece) or a "treat" (Smartie or Jelly Tot) into the centre of each portion.

Roll each portion into a ball the size of a chestnut.

Finish by rolling the truffle in cocoa powder.

Repeat with the remaining fillings.

Chill until ready to serve. Then let the games begin!