Hey lovelies,
I hope you are all looking forward to Easter.
With that in mind, I have been getting a few questions about Roasted Easter leg of lamb
Once you have the weight and the timing right, it's really straightforward.
Like all my roasts I stick to traditional flavours with lamb. That way you can't go wrong.
I always say they are They're classics for a reason!
Garlic, rosemary and lamb are a match made in heaven.
Joanne and Lil's x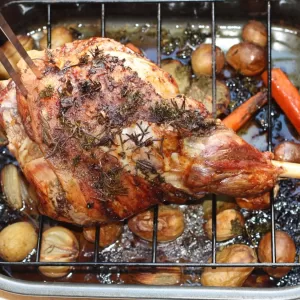 Easter Roast leg of lamb
Garlic, rosemary and lamb are a match made in heaven. 
Ingredients
1

leg of lamb on the bone

3

cloves of garlic

peeled and sliced

1

onion

3

sprigs of fresh rosemary

3

sprigs of fresh thyme

1

fresh parsley 

chopped

6

carrots

1

kg

baby potatoes

(1 bag)

100

g

butter

1

tbsp

rapeseed oil

1

tbsp

flour

1

beef or lamb stock cube

1

pint

water
Instructions
Roasting guide
It is very important to check the weight of the joint allowing 20 minutes per 1lb.

Plus 20 minutes at the end for rare.

If you like your lamb medium, add another 30 minutes. 

If you like it well-done (like me) then add another 40 minutes at the end of cooking time.
For the lamb
Preheat the oven to 230°c, gas mark 8.

Then reduce the oven temperature to 180°c, gas mark 4 for the rest of the allocated cooking time.

Mix half the herbs into the butter and smear all over the lamb.

Using a sharp knife, make some little slits into the lamb. Press the garlic slices and some rosemary sprigs well into each slit.
For the veg
Peel and chop the carrots and onion. 

Drizzle a tablespoon of oil over the potatoes carrots and onions, and scatter the rest of the herbs over them.
To finish
When the cooking time is finished, remove the lamb, potatoes and carrots from the roasting tin and leave them to rest for a few minutes while you make the gravy.

Place your roasting tin on the hob, mixing all the juices with a whisk. 

Addin the beef or lamb stock cube/ pot and mix again. 

Now add the flour and give another good mix.

Finally, slowly pour in a hot pint of water, quarter by quarter, mixing as you pour.