I hope you've got a spring in your step as we head into the Easter holidays. Whatever you've got planned for your little ones, don't forget that our Family Cooking Club has a huge selection of previous cook-alongs, just waiting to be enjoyed by creative young cooks on their days off. Who knows, you might even get a few nights' break from cooking! If you're not a member yet, why not pop along to the website to find out more?
Or, even better, you could win 3 months free membership in our special competition, exclusively for newsletter subscribers.
Keep reading to find out more (and for some tasty seasonal recipes).
The Great Irish Bake
Although March 31st was the official date for the Great Irish Bake (a fundraiser for Children's Health Ireland), you could still plan and squeeze in a quick event during the Easter Holidays.
We had the best time celebrating the initiative during this month's Gem Cook-Along. Our Kids in the Kitchen made a traditional sponge traybake, a true classic that's simple to make but scummy to eat. If you're a member of the Family Cooking Club (just €10 a month), you watch the class back now on your dashboard. If you're not, you can pick up the recording in our shop for a fiver.
To find out more about the Great Irish Bake, please visit the Children's Health Foundation website.
(By the way, our next Gem session will be on April 25th. We'll be cooking mini pizza faces, as featured in the Great Irish Bake recipe book)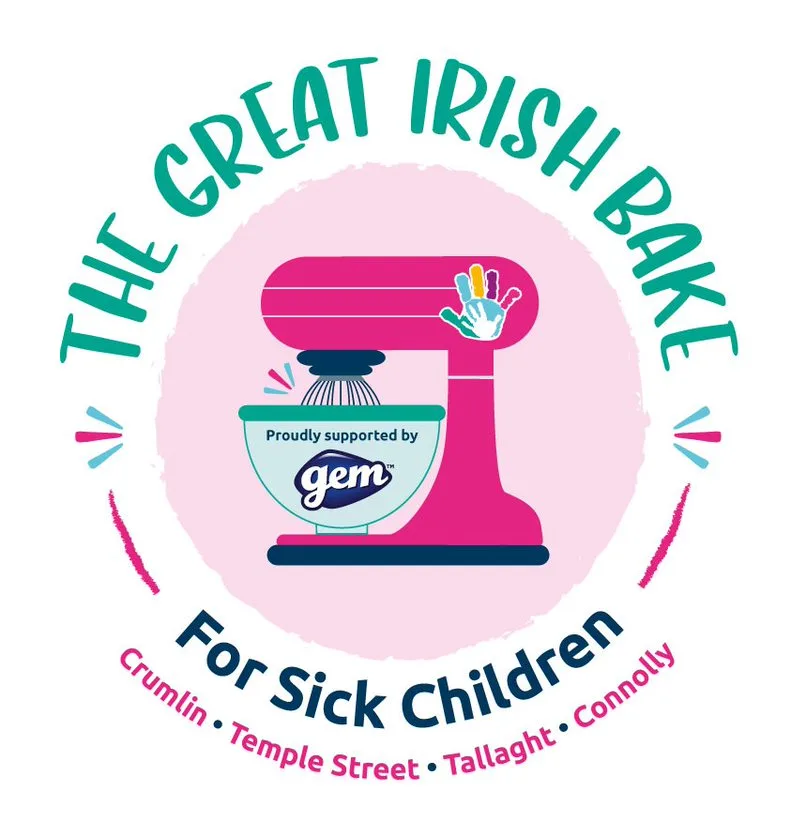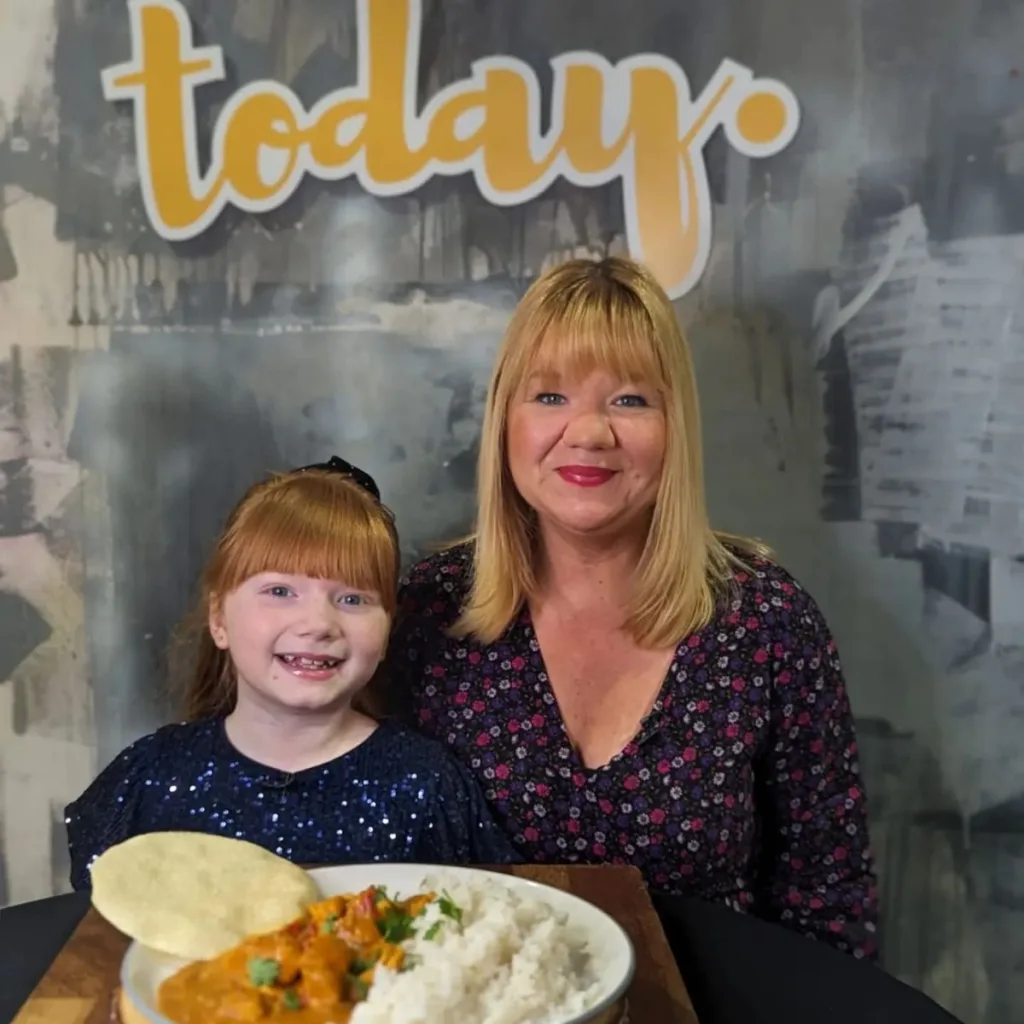 Take Two: Our Return to The Today Show 
After an exciting Today Show debut during midterm, Lil's and I will be joining Daithí and Sinéad again on Wednesday 12th April. That week, the show's theme will be "Value Family Meals", so we're delighted to be giving viewers a flavour of what's possible on a budget.
With that in mind, we'll be cooking delicious spaghetti carbonara from scratch. It uses just a few straightforward ingredients but is a winner when it comes to filling hungry tummies. It's Lil's number one dinner, so tune in, give it a go and see if it becomes a favourite in your house too.
If you missed our first appearance (when we made chicken curry), you can catch it here. And if you're eager for some tips on the topic of "Value Family Meals", make sure to check out this recent blog post: Make Your Money Go Further This Spring.
The One Yummy Mummy Easter Feast
You can't think of Easter without thinking about food. So I've gathered together some savoury and sweet recipes that are spot-on for this time of year.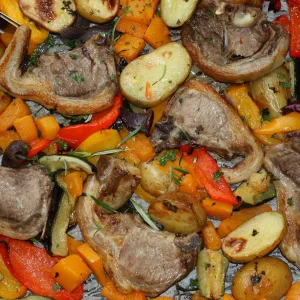 Easter Lamb Chop Tray Bake
When spring has sprung we can start putting a few lighter, fresher dishes on the meal plan. My lamb chop tray bake is filled with all the colours of the rainbow. Plus, it unites the flavours of roasted butternut squash, parsley and rosemary with the classic Irish lamb chop. As an added bonus, it's all baked on one tray, meaning less washing up at the end!
Ingredients
1

tbsp

rapeseed oil

2

garlic cloves

1

red pepper

1

yellow pepper

1

butternut squash

peeled and cut into chunky pieces

6

baby potatoes

sliced in half

1

courgette

1

red onion

cut into wedges

4

lamb chops

1

tbsp

parsley

1

tbsp

rosemary
Instructions
Heat oven to 220C/200C fan/gas 7.

Crush the garlic, peel and dice the butternut squash, slice the pepper, courgette and baby potato, and cut the red onion into wedges.

Scatter all the vegetables on a large baking tray.

Chop the herbs and sprinkle them over the vegetables. Drizzle them all with oil and season with a little salt and pepper.

Place on the middle shelf of the oven and roast for 30 mins.

After 30 minutes, give the veggies a good shake and put them to one side of the tray.

Season the lamb chops with a little salt and pepper (no need to oil them as they will release enough oil while cooking). Place them on the tray and return the tray to the oven for 20 mins (turning the chops after 10 minutes).

Garnish with another sprinkle of fresh rosemary and parsley and serve with some leafy greens.

Pour in water to bring them together and add the third portion of mixed herbs.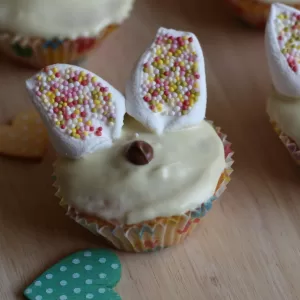 Easter Bunny Cupcakes
Filling your Easter basket has never been easier with my quick and easy bunny cupcakes. Even the littlest of hands will enjoy putting the sprinkles on the bunny ears and adding the chocolate chip nose. It's the little jobs that make baking together stress-free and more fun for everyone.
Ingredients
120

g

Self-raising flour

100

g

Caster sugar

2

tbsp

Water

100

g

Butter

2

Medium free-range eggs

100

g

Icing sugar

12

Chocolate chips

12

White marshmallows

2

tbsp

Coloured sprinkles
Instructions
Preheat oven to 180°C fan.

Measure and sift the self-raising flour and add butter and sugar into a large mixing bowl, cracking in your eggs last and mix well with your wooden spoon.

Add a tablespoon of cupcake batter to each cupcake case.

Oven bake for 15 minutes.

Meanwhile, make the icing by sifting 100g of icing sugar and mixing it with 2 tablespoons of water.

Put coloured sprinkles onto a flat plate.

Carefully cut 12 white marshmallows diagonally to make your bunny ears.

Press the sticky side of the marshmallow into the sprinkles.

Top each cupcake with a spoonful of icing.

Stick two bunny ears onto each cupcake, using the icing as glue.

Finish with a chocolate chip nose.