Equip Your Kids for Life This Summer
Can you believe it? School's almost finished! This year has gone so fast – perhaps because it's the first that's felt back to some sort of "normal" since the pandemic.
Although the academic learning's done for now, I think summer's a great chance to try learning of other kinds. What better time for children to explore their interests, support a good cause or learn a life skill?
And when it comes to life skills, one of the most important is cooking. When kids grow up, they'll need to feed themselves multiple times a day, every day of their lives.
And with that in mind, the Family Cooking Club (especially the Kids in the Kitchen cook-alongs) is here to help. We've got lots of exciting news to make your kitchen sizzle in
summer 2023.
Family Cooking Club: 3-Month Summer Offer
Usually, it's just €10 a month to access our Zoom cook-alongs, bank of recipe videos, meal-planning tools and more.
But if you've been on the fence about joining, why not try our special 3-month subscription deal? For just €24.99 (saving €5) your child could spend the holidays:
Learning lifelong cooking skills from a fellow young chef (Lils, age 9)
Serving up delicious dinners for all the family
Baking tasty treats to share with friends
Giving the grown-ups some nights off cooking
Building self-confidence and a sense of accomplishment
Meeting new children from across Ireland and beyond
Parents tell us how much confidence the club gives their children and how it encourages them to taste and try new foods and recipes. Here's just one quote from a happy mam:
"Thank you, Jolene, and Lils, for providing such an encouraging and kid-friendly environment. I personally think it's one of the best things I could have done for the kids, not only are they trying new foods they previously would have turned their noses up at, but to see them actively interested in, preparing, cooking and learning the new skills too is amazing!"
Free Cheeseburger (Plus DIY Barbecue Sauce) Class With Gem
It's hard to imagine summer without the lingering, smoky scent of a barbecue on a sunny day.
Unfortunately, I can't guarantee al fresco weather. But I can guarantee a lip-licking tangy BBQ sauce to go with our scrumptious oven-cooked burger. Made with GEM muscovado sugar, it's sure to beat the shop-bought versions, hands down.
To try it yourself, join us on Zoom at 5 pm on Tuesday 27th June for a FREE Kids in the Kitchen Cheeseburger Party. What better way to celebrate the end of school? As always, you can look forward to an exciting mix of games and spot prizes, with lots of fun and banter as you show off your creations.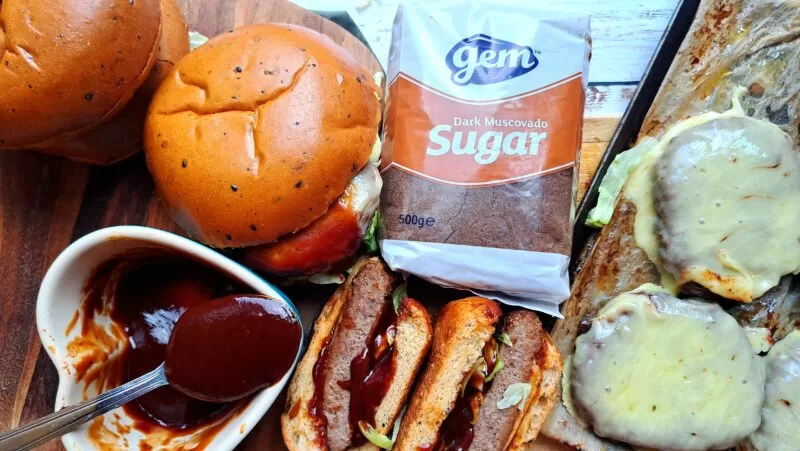 Congratulations to our May Prize Winners
Indian cuisine was on the menu at May's GEM cook-along. I'm sure there were amazing aromas wafting around our participants' kitchens.
As always, we had some fabulous spot prizes on the go. Congratulations to this month's winners:
Charlie and Jack Hayes: Winners of a Gem hamper
Caoimhe Durkan: Winner of a cooking utensils set and Gem hamper
Remember we'll have more treats up for grabs this month (see class description above), so make sure to get involved!
Scrumptious Treats for Fun in the Sun
This month, we've got two yummy recipes that are easy to eat and enjoy out of doors.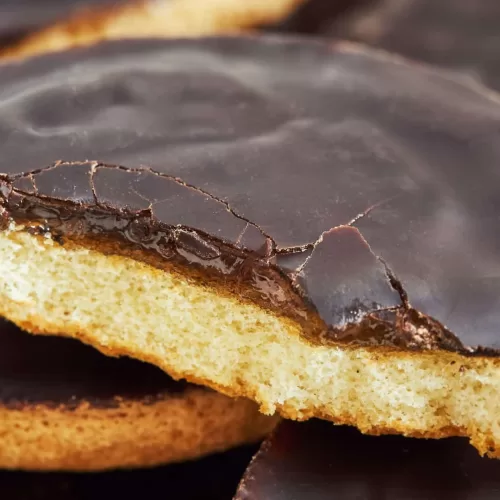 Homemade Jaffa Cakes
Chewy and fruity – you'll love these DIY versions of a classic treat. To mix things up, we chose strawberry jelly for our filling. Why not try every flavour during the summer and see which you like the best?
Equipment
1 30 x 20cm shallow baking tray

base-lined with baking/greaseproof paper

1 30 x 20cm baking tin

lined with baking/greaseproof paper

1 7cm round biscuit cutter

1 5cm round biscuit cutter
Ingredients
For the jelly
135

g

Pack of strawberry jelly

150

ml

boiling water
For the sponge
2

Large eggs

50

g

Caster sugar

501

g

Butter

150

g

Self-raising flour

sifted
For the topping
200

g

chocolate

broken into pieces

100

g

white chocolate
Instructions
Make the jelly
Break the jelly into its cubes and place them in a small bowl. Pour over the boiling water and stir until the jelly is completely dissolved. Pour the jelly liquid into the lined shallow baking tray and refrigerate until set (about 30 minutes). Meanwhile, preheat the oven to180°C/160°C fan /Gas 4.
Make the sponge
Make the sponge by creaming the butter and sugar together, adding your eggs and gently folding in the flour.

Pour the batter into the lined tin and smooth it evenly into the corners. Bake in the centre of the oven for 10–12 minutes, until golden and risen and just firm to the touch. Remove from the oven and leave to cool in the tray for a few minutes, then turn out onto a wire rack. Remove the baking paper and leave to cool completely.

Once cool, use the 7 cm circle cutter to cut out 4 rounds of sponge and place them on the cooling rack. Discard the trimmings (or eat them!).

Turn out the jelly onto a sheet of baking paper and peel off the baking paper. Using the 5cm round cutter, cut out 4 rounds of jelly. Position one jelly round centrally on top of each sponge.
Make the topping
Melt the chocolate in a bowl set over a pan of gently simmering water. Remove from the heat, leave to cool slightly, then pour the chocolate over the top of the jelly and sponge until completely coated. Refrigerate for about 10 minutes until set.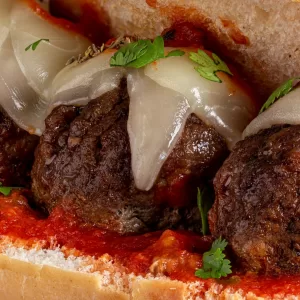 Slow Cooker Meatball Subs
Ingredients
500

g

pork mince

(10% fat for more flavour)

30

g

parmesan

grated

400

g

passata

(1 carton)

1

tsp

sugar

2

tbsp

Dried oregano

1

Handful of fresh basil leaves

1

long baguette

200

g

grated mozzarella

1

Salt and pepper 

(for seasoning)
Instructions
Season your mince with salt and pepper. Add the parmesan and a tablespoon of oregano.

Roll the mince into meatballs and add them to the slow cooker.

Pour in the passata and add a teaspoon of sugar to offset the acidity in the tomato.

Sprinkle in a tablespoon of oregano.

Tear up the fresh basil leaves and scatter them in.

Put the lid on and cook for 3 hours on high or 7 hours on low.

Slice the baguette in half and sprinkle with mozzarella.

Place under the grill to melt the cheese.

Make your subs by adding the meatballs and drizzling the marinara sauce on top. Cut into portions.

Wrap each sub in greaseproof paper to bring on a picnic.